If you are looking for an easy way to start trading Forex, then MetaTrader 4 is a great option. The platform has been designed with beginners in mind and it offers all the tools you need to make your first trades. So if you want to learn to trade Forex without investing any money, this is the perfect solution!
What is Metatrader 4?
MetaTrader 4 is a powerful platform that can be used for trading Forex, analyzing financial markets, and using Expert Advisors. The mobile-friendly MetaTrader allows you to take advantage of on-the-go opportunities as well.
MetaTrader 4 also supports algorithmic trading, which means that even those who have never traded before can use automated software programs to place trades on their behalf. It's as simple as selecting from one of the many available trading strategies and letting MT4 software do all the work for you!
How to Start with Metatrader 4
The program is completely free, and it may be downloaded from the website of any Metatrader 4 provider. This implies you'll need to create a free account with a Forex broker like Blueberry Markets or IC Markets.
If you're wondering whether you can trade Forex without a broker, the answer is yes. You can open a demo account in MetaTrader 4 without a broker. However, it's only for demo trading and practice. You won't be able to have a live trading account unless you have an account with a Forex broker.
If you're new to Metatrader 4, we recommend that you start with a demo account to become acquainted with the platform and test out all of its features.
Open a demo account and install Metatrader 4 on your computer once you're ready.
How to Install Metatrader 4
First and foremost, launch the installer file you downloaded from the broker's website. Follow the steps and press the Next button again and again. Wait for the installation to be completed successfully. Then hit Finish.
After a few minutes, the MT4 terminal window should appear on your computer, and it will ask you to create an account. Not all brokers allow you to establish an account right away from the MT4 terminal window; therefore, you may need to go to the broker's website to accomplish this.
You may log in to your account from the top menu by selecting File -> Login To Trade Account.
Select the correct account from the drop-down list and click OK.
You're ready to use Metatrader 4 through your real Forex trader account at this point.
MetaTrader 4 Interface
The MT4 interface is simple to use and attractive. For a complete novice, it should take no more than 20 minutes to become accustomed to it.
The MetaTrader 4 top toolbar gives users access to all of the program's tools and technical indicators through simple drop-down menus.
Market Watch – This section displays the currency pairs, stock indices, and commodities that are currently traded on the financial market; in other words, they're financial instruments accessible to your trading account.
Navigator – It's a handy tool for advanced traders who want to access all sorts of indicators, Expert Advisors (also known as Forex robots), or custom scripts. This is also where you can change between various accounts if you have more than one.
The Navigator window is usually docked to the main window, so you'll have access to all of your add-ons at all times.
Terminal – shows open, pending, and completed orders for your account; it's also where you'll find comprehensive information about all your trades including current pricing, stop loss and take profit levels.
Charts are a way to see the historical price data of any financial instrument available for trading on the market.
Charts have all the necessary tools to analyze and draw trend lines, channels, or whatever you need in order to create your own trading strategy.
The first thing you should know about charts is that they allow you to zoom in and out using appropriate buttons at the top toolbar or +/- keys on your standard keyboard.
You can also switch between different timeframes from the top toolbar: 1 minute, 5 minutes, 15 minutes, 30 minutes, 1 hour, 4 hours, daily, weekly and monthly.
In order to open a chart of any financial instrument, you need to go to the Market Watch section.
You can also have several charts open at once by clicking the 'Create a new chart' button in the top toolbar and choosing an instrument from those listed.
If you do not see your instrument available, you will have to go to the Symbols table and check out a complete list of instruments you can work with on your trading account.
What is the minimum deposit for MetaTrader 4?
MetaTrader 4 requires a minimum deposit from your broker, which varies depending on the firm.
Different brokers have varying minimal deposit requirements.
A minimal deposit of $5 to $50 is possible, but you won't make much money with such a small amount.
My advice would be to open an account with $10,000 since making 10% every month is enough for a decent salary. Of course, you should initially create a demo account and only obtain a live trading account once you've shown that you can generate income on a monthly basis.
Most beginners in Forex trading think they can get rich without any knowledge or skills. They then deposit all their savings and lose it all on the next few bets. Don't fall into this trap!
You should carefully plan and execute all your trades.
Don't even think about trading without the necessary education and experience.
Metatrader 4 Mobile App
Don't you wish there was a way to trade Forex on the go?
Don't worry, there is.
The MetaTrader 4 Mobile App for Android and iOS-powered phones allow you to make trading decisions from anywhere.
You can download it free of charge from Google Play or Apple Store and use it with any smartphone that runs either Android or iOS.
It has a straightforward interface which means no learning curve at all—just install it, log in to your account, pick an instrument to trade (currency pairs, stocks, gold), set up the parameters of your trading strategy (the stop loss level and take profit level), then hit the BUY or SELL button.
You can trade on any symbol traded on the main trading platform.
MetaTrader 4 Mobile App is very similar to MetaTrader 4 PC platform. It gives you access to your charts where you can select a timeframe for data and choose from a pre-defined set of drawing tools and indicators.
MetaTrader 4 Mobile App is very easy to install and use and it does not require any special knowledge or skills.
If you can operate the main platform you will be able to handle this one just fine.
Metatrader 4 on MAC
If you are wondering can metatrader run on MAC, the answer is yes. You can use Metatrader 4 on Mac easily with WineBottler or Wine Application.
Many people who own Apple computers and want to trade Forex, stocks, or commodities from their laptops are turning to this application for help.
In order to successfully download and install MT4 on your MAC, you will need WineBottler or Wine.
The good news is that both of these applications are free and very easy to use.
Metatrader 4 on Linux
If you're running Linux and wondering whether Metatrader can run on it, the answer is yes.
MetaTrader 4 software for Linux is quite popular among traders who have a Linux-powered computer and wish to trade equities, currencies, or commodities from their PC.
In order to install Metatrader 4 on your Linux computer, you'll need WineBottler or Wine.
As I've said before, MetaTrader 4 is the most popular trading platform among seasoned day traders all over the world. That's why it's available on nearly every major trading platform in the world.
Metatrader on Windows 10
Yes, MetaTrader can run on Windows 10 and we have seen no issues of users having problems with Windows 10.
Metatrader 4 was initially created for Windows OS many years ago when the old Windows XP version was very popular. The minimal Windows OS version required for Metatrader 4 is Windows 7 today.
Recommended System Requirements for Metatrader 4
You should know what are the recommended system requirements for having a successful trading experience with Metatrader 4.
Recommended system requirements for MT4:
Windows 7 or higher, MAC or Linux operating systems;
Intel Pentium III 1GHz processor or faster;
512MB RAM (1GB recommended);
50MB hard drive space (400MB for installation and up to 1GB for Metatrader 4 data folder);
1024 x 768 display card.
If you bought a new computer in 2014 or later, you'll be able to utilize Metatrader 4 without any problems.
Metatrader 4 on a VPS Server
Instead of utilizing your PC to run the Metatrader 4 platform, you may use a VPS server because it's a well-known practice among expert Forex investors.
You can avoid downtime, shut down your computer, and still have your MT4 account working online at all times with any Expert Advisors or trade copier software when you run it on a VPS server.
If you want to use Metatrader 4 on a VPS server, you should familiarize yourself with the recommended requirements for that platform.
Recommended VPS server requirements for MT4:
at least 1GB of RAM;
20GB of disk space;
Windows 2000 or higher (usually, only Windows OS can be used in this case);
Can I run two MT4 terminals on one computer?
Yes, you can create 2 or more instances of MT4 and each one will be a separate terminal.
You can use strategies with different settings for each instance to trade with different accounts.
Another reason why people need multiple MT4 instances is if they want to use a trade copier software to copy trades from one MT4 to another.
How many instances of MT4 can you run?
Technically, a VPS may host up to 32 Metatrader instances if the server is strong enough. The limit of a Windows OS per user is 32, but you can always add more users on a VSP server to install more Metatrader instances.
From my personal experience, I can say that it is best to run 12 instances of Metatrader 4 at the same time max. Somehow it is better to have multiple Windows users with 12 MT4 terminals each, than one user with 32 terminals.
For example, my current client is employing 70 Metatrader 4 instances on a single VPS server. They have 6 user accounts on a VPS server and each of them has 12 Metatrader platforms installed.
They connect to different user accounts on a VPS through the Remote Desktop Connection app when they need to manage these platforms.
If you're searching for VPS servers that can handle 20, 50, 70, or more MT4 terminals, VPSForexTrader.com is the place to go. I've been dealing with them for ten years now and their services are always of the highest quality.
What to do if the MT4 platform loses connection?
When Metatrader 4 loses connection to your broker, you'll notice this by the fact that the ticker is not updating anymore.
Furthermore, you won't be able to open, change or close trades which is a terrible thing especially if you didn't set a stop loss!
So what can we do about it? Well thankfully there's an option called "rescan servers" in MT4 and according to its description on the MetaQuotes website "This option resets the list of servers that MT4 will try to connect with from scratch".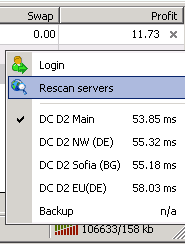 The Forex broker automatically provides MT4 with this list, but sometimes it might get corrupted or outdated if it does not contain all Data Centers yet or something like that.
You can read about other ways to solve annoying MT4 connection problems, but hopefully, rescan servers function fixes the problem for you.
Metatrader 4 losing connection to your Forex broker is a common problem, and it's annoying as heck, but the good thing is that it does not happen often.
Conclusion
As you see, Metatrader 4 is a powerful platform that can be used by beginner and advanced Forex traders.
MT4 offers a lot of functionality and it can run on nearly every popular platform and computer.
Good Luck and Happy Trading with your MT4!