Trading is hard. It takes a lot of time and money to learn, master, and succeed in trading. Furthermore, it is not wise to risk by betting on one system or trader. If it fails, you lose your money. But what if I tell you that you could create a profitable investment portfolio by merging multiple traders from social trading networks into one MT4/MT5 account and diversifying the risk?
Diversification
You've all heard that old saying about putting all of your eggs in one basket, right? The idea is that if all of your eggs are in one basket and you drop the basket, or someone steals it, all of your eggs are gone in one fell swoop. So the standard solution is to keep your eggs in a few different baskets so that losing a basket doesn't wipe out all your eggs. That is the principle behind diversification.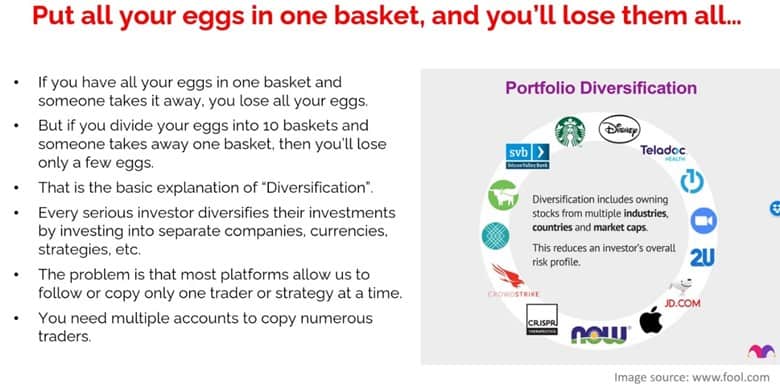 Don't put all your eggs in one basket – diversify your portfolio!
Every serious trader and investor out there practice diversification to keep as many of their 'eggs' safe as possible. You can do this in any one of several ways. Many investors do it by keeping some of their investments in stocks, some in bonds, some more in precious metals, and so on. Another way is to diversify your investment strategies. That means you can adopt several strategies and spread your whole investment portfolio across all of them. So if one or two strategies aren't achieving the returns you hoped for, the others are still turning a profit. You're reducing the chances that all of them will fail all at once. Just like with the eggs in the basket in the proverb.
Now, if your investment strategies come from copying or following existing trader strategies, you're going to run into a problem. The problem is that most platforms only allow you to follow or copy one trader strategy at a time. To fix that, you will need multiple accounts to copy several strategies.
Another snag you're going to run into is that some of the traders you want to copy will force you into using forex brokers that maybe you don't exactly trust. Not to put too fine a point on it, some of these traders will probably be using unregulated brokers in offshore tax havens or whatever. You're not going to want to put your whole portfolio into one of these, right?
So, what's the solution? Well, with the Many-To-One Portfolio™ framework I designed, you can eliminate both of these problems at once. You don't believe me? Well, keep reading because you'll be amazed at what this system can do.
Many-To-One Portfolio™ Framework
Here's how it works. Say you want to diversify your strategies across ten different sources. You can set up ten small accounts and fund them with only small amounts of money you can afford to lose. These ten accounts are going to be your master accounts.
For example, let's say you follow MQL5 Signals, someone from ZuluTrade, then someone from Myfxbook Autotrade, a couple of forex robots you've found that work, and you have some account managers with investor password accounts. These will be your ten master accounts that will form the backbone of your Many-To-One Portfolio™ framework. Again, make sure you only fund these accounts with a small amount you can afford to lose.
These master accounts are then going to feed into one portfolio account. We're going to call it a portfolio account, or in other words, a client account, which is taking trade information from your army of ten master accounts. Because this portfolio account will be your main account, you'll want to run it through a broker you trust, operating in a regulated environment where you feel your money is safe.
So, how can you do this? I hear you cry in frustration! Well, hang around, and I'll tell you.
The primary weapon in your armory will be the FX Account Cloning™ method. Usually, this allows you to copy trades from one master account to multiple client accounts, but this time we're going to talk about how you can do it the other way around.
The Many to One Portfolio™ framework setup
By running ten small accounts and combining their trades with your big portfolio account, you manage the risk of one account going down. If two accounts fail, you still have the other eight taking up the slack and hopefully covering your losses. Also, you can replace accounts that aren't working for you. If any of these accounts aren't as profitable as you hoped or are making losses, you can swap them out with others you find in the meantime.
These ten master accounts can be from unregulated brokers. They can be demo accounts or on offshore islands, but you can still use them to feed information into your main portfolio account.
The number one key thing to remember is that you allocate only 10% of each of these different strategies on your main account. Do not copy these trades one to one on your main account. Of course, if you don't have precisely ten master accounts, you'll need to modify how much you allocate to each account. For example, you might have just five different accounts you want to use as sources for your main account. In that case, you'll allocate 20% to each of these five master accounts. But, as you can see, the more you diversify, the better you're regulating the risk you take. The more accounts you have, the less you must allocate to each one.
FX Account Cloning™ System
The first step to diversifying your trading strategies is installing the Local Trade Copier™ software. This software has been around for more than 11 years and tested by hundreds of satisfied users. It is quick and easy to set up – in just ten minutes you'll be ready to go!
The excellent Local Trade Copier software!
One-To-Many Copycat™
The usual way to use the Local Trade Copier™ software is to do what I call a One-To-Many Copycat™. This setup allows you to use one master account to instantly clone your trades to many client accounts. That's a handy tool, and many traders will tell you it's a gamechanger. But that's not what we're looking at today.
Many-To-One Copycat™
The opposite setup is the Many-To-One Copycat™. This setup allows you to pool trades from multiple trading accounts into one main account.
The way to set this up is relatively simple. You first have to install a separate MetaTrader platform for every account you want to operate. So, if you have ten master accounts and one portfolio account, you'll have to install 11 MetaTrader platforms.
An essential part of this step that people sometimes miss is that each MetaTrader needs to be placed in a separate folder. Now, I strongly recommend you come up with a convenient and straightforward naming system for these folders because you're going to want to keep track of which account is linked to which MetaTrader platform.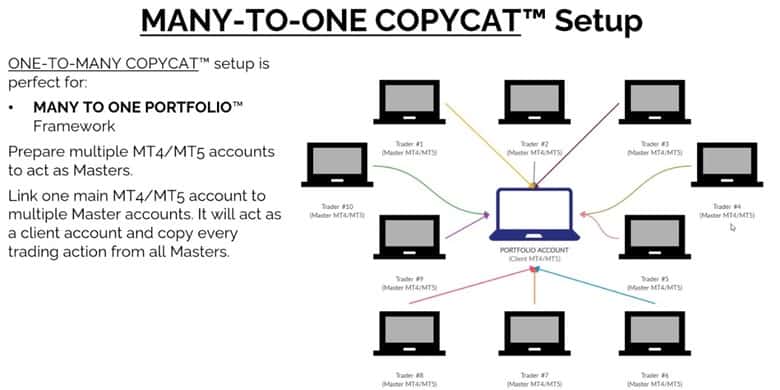 The Many-To-One Copycat™ setup!
Once you've installed all of your MetaTrader platforms, you should link them up using the Local Trade Copier™ software I mentioned earlier. The Local Trade Copier™ software will allow you to instantly copy all of your trades on your master accounts across your portfolio account. More than that, it will enable you to control how much you allocate to each master account so you can have complete control of your risk profile.
There are a couple of other essential things to remember at this stage. Because you're linking multiple accounts from different brokers, you'll want to make sure you go through the custom symbol mapping to make sure you're not creating any conflicts with things like different instrument names. It is nothing complicated, and doing it at an early stage will save you some hassle later on.
Another thing is to ensure that your setup is reliable and that your internet connection is up to the job. My personal recommendation is that you find a reputable VPS server with a high-speed connection that has servers as close to your broker as possible. The goal here is to keep delays to a minimum or even cut them down to practically zero so that you can maximize your profits from every trade.
Your Route to Success
I'm incredibly proud of the success the Local Trade Copier software has brought to so many clients. Hundreds of people have been using it for more than 11 years (we recently celebrated our 11th anniversary!), and it still gets positive reviews on social media. If you want to see some of these reviews, head on down to TrustPilot or Forex Peace Army and read what others are saying about this unique tool.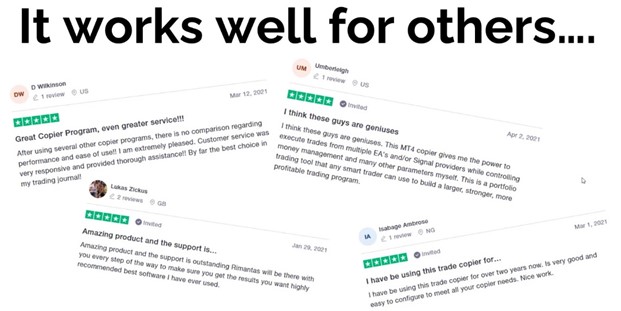 So many of our clients have used the Local Trade Software to great success!
One of our clients, Kris Mills, has been particularly happy to share his success story. He has used the Local Trade Copier™ software to link multiple accounts and clone his trading system to many prop firm accounts he manages, such as one for FTMO. He's out there making profits using the Local Trade Copier software, so why don't you do the same?
Just imagine it. Using the Local Trade Copier™ software, you set up multiple trading accounts using the Many-To-One Portfolio™ framework and link them all to your main portfolio account. Soon enough, your little master accounts are turning a profit and, at the same time, growing your main portfolio account. Sure, a month or two in some of them might start failing, but you still have the others to cover these losses. Also, there's nothing to stop you from kicking out underperforming accounts and finding better ones to replace them. So in no time, you've not only seriously diversified your trading strategies, but you're also watching your main portfolio account growing as it instantly reaps trades from your army of master accounts.
If you think about it, there's no reason why you wouldn't start working on this today. Just download the Local Trade Copier™ software to see how easy it is to set all this up. Just think where your portfolio account will be a few months from now.