It is disappointing to find the message "Trade disabled" on your MT4 platform. However, that is not fatal, and you can solve it by finding the reason for disabled trading and fixing it. In some cases, if the market is closed, there is nothing to resolve, but if the market is open and your trading functionality is disabled, you have to know what the issue is and how to solve it. In this article, we will look a the main reasons why trading can be disabled on the MetaTrader 4 platform and what to do to enable it.
What does it mean 'trade is disabled'?
"Trade is disabled" error message on Metatrader 4 means that you cannot actively trade at all or only some specific instruments, depending on the error message that you get. To find the solution, usually, you need to contact your broker's support team. But it could be a simple case that the market is closed already for that specific instrument, and you simply need to wait until the market opens.
Why is my trading disabled on MT4?
There are four main reasons you see an error message, and let's try to figure out what to do about each one of them.
The market is closed.
Like many other markets such as commodities, stocks, or bonds, Forex is closed during weekends. It means you cannot open a trade because active trading is disabled during weekends. CFD instruments such as APPL, TSLA, GOLD, etc., are open for trading only during specific market hours (i.e., US stock market hours). So, the solution to the problem is to wait for the markets to open, and you will likely not get the message when they do.
Trading can also be closed if there is a market holiday. You need to check your broker's calendar to see what days of the year are market holidays.
Some instruments, usually gold and oil, and some others, may have trading breaks, during which trading functionality is disabled for these instruments. Again, check with your broker to know what instruments have trading breaks and which ones don't.
You can check trading hours for every trading instrument in the Metatrader 4 Market Watch, but honestly, that information is not correct on most accounts, even with top brokerage firms.
Trading rarely closed due to a force majeure or unforeseen event. This feature won't typically last long, but it may happen during times of low liquidity, most often during important news releases, for example, FED interest rates announcements, when markets can become very volatile and move hundreds of pips within a matter of seconds.
Why is gold trading disabled?
Gold is a commodity, and the commodity market does not open until late hours on Sunday. Depending on the broker you trade, gold opening trading hours will most likely be at 23.00-23.45 EET, depending on the broker you trade. The same can be true for other commodities and some indexes, so be sure to check the opening hours of the instruments of interest with your broker.
You are logged in with "investor password"
If you log in to the MT4 account with an investor password, you will only have read-only access. Log in with the primary password to have full trading permissions. It might also happen that your Forex broker support team set your account status to read-only. In that case, you will have to contact the support team of your broker and ask the status to be changed.
An instrument might be set to "close only" by your broker.
Occasionally you might find this message on your terminal. It means that your broker is trying to remove that specific instrument from the MT4 platform or any other option of the platforms they offer. Sometimes, as we have stated, some trading instruments become too volatile to trade. Usually, it may be some exotic pairs, for example, Russian ruble or Turkish lira. These have undergone severe geopolitical headwinds in the past. Some brokers decided to remove the currency pairs denominated in the Russian Ruble and Turkish Lira from their MT4 platforms when they became highly volatile. If you have open positions on these pairs, you'll notice that you can only close them (hence the term "close only").
Your account has not yet been activated.
You might get the message that trading on your MT4 terminal has been disabled because your account has not been activated yet. Usually, when you register with your broker, you will have to go through a verification and activation procedure, which would involve several steps, such as sending some documents or depositing funds before you can start trading.
After you complete all necessary procedures, the broker will activate your account, and you are good to start trading whenever you want. If you want to check your account status, contact your Account Manager or the broker's Client Experience team. They will activate your account in case there is any misunderstanding or error.
Extra possible reason
Suppose you are using automated trading for scalping or similar intra-day trading strategies. "Trading is disabled" errors may cause you to lose profits if you follow a great trader. Well, thighs happen. Such errors can be a weak internet connection, restriction from your broker, or simply malfunctioning of a trading bot.
"Trading is disabled" can also occur if there's no such financial instrument to open a trade. In that case, you can get the MT4 error code 133, which means your trade copier could not find a currency pair during the execution of your order on the MT4 terminal. Usually, this happens when the client account's instrument name is different from the master account. For example, the master account sent a trade for EURUSD, but on the client-side, there's no EURUSD because it is called EURUSDfx. Note the fx suffix.
Not all trade copiers can automatically detect suffixes and adapt. But that is never a problem for our Local Trade Copier.
You might also need to see if you have enabled auto-trading on your MetaTrader terminal. Go to Tools, click on the "Options" menu, click on "Expert Advisor", and finally allow the automated trading option. Press "OK", and you are all good.
Where do I get error messages about disabled trading?
Last but not least, where do you get those error messages about disabled trading on your MT4? You can always check the 'Journal' tab at the bottom of the MT4 platform for any error messages when you cannot open or close a trade. There you will usually find an explanation on why you cannot open or close a trade and possibly recommended actions on how to solve the issue. It is also worth checking the 'Experts' tab for any error messages or recommendations from the Expert Advisor or trade copier software you are using.
How to Enable One Click Trading in MT4?
If you are looking to enable 1-click trading on Metatrader 4, all you have to do is press Alt+T on the keyboard for any particular chart window. That will make the one-click trading buttons appear on the chart, allowing you to quickly open buy and sell trades with a predefined fixed lot size.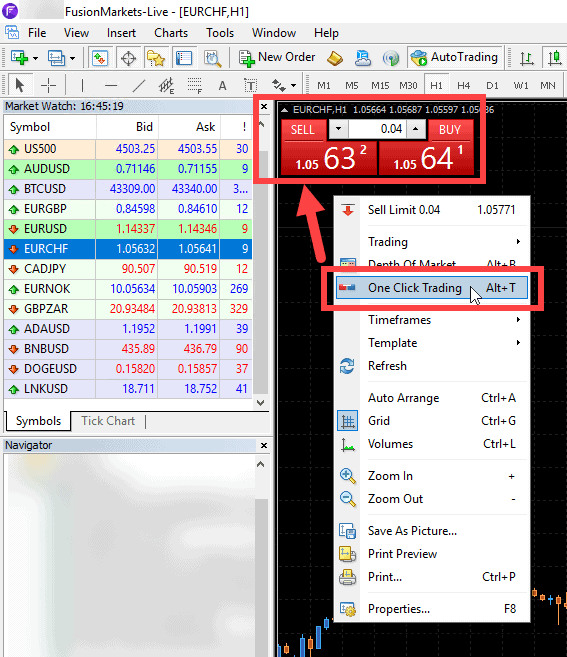 The one-click trading tool on MT4 is very convenient. Still, there's an even better tool with more functionalities that can also set the lot size automatically after you choose to risk the percentage of your account balance. Check out the Trader On Chart trading panel for MT4, and you'll never want to open another trade without it.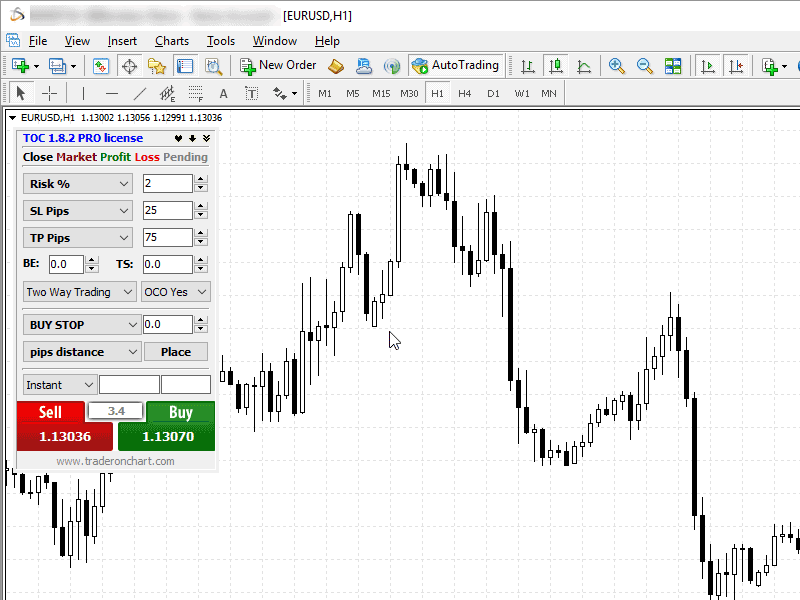 Trader On chart is by far the fastest way to calculate lot size and open a trade on your MT4 desktop platform.